Vodafone user and interesting news for you. As you know prime is growing rapidly and their features are awesome. Vodafone Postpaid RED Plan giving you free amazon prime worth Rs.999/- for free no additional cost at all.
Note: For new user only as I was an existing customer. I have done it for my father
amazon
account
What is Amazon Prime
Amazon Prime is a paid service (Rs.999 per year currently, plus a free 30-day trial or Rs.129 per month) that gives Amazon shoppers a few distinct advantages. Members of Amazon Prime are eligible for free one- or two-day shipping on most items, among several other perks.
However, there are ways to lessen the impact of the price increase.
Benefits of Prime
Amazon Prime benefits, applicable on all
Prime Eligible items
, include:
FREE One-Day Delivery

to eligible addresses.

FREE Two-Day delivery

to eligible addresses.

FREE No-Rush Shipping

to eligible addresses and avail Rs.15 cashback. For more details, go to About the No-Rush Shipping Program.

FREE Scheduled Delivery

to eligible addresses.

Discounted Same-Day Delivery

to eligible addresses at Rs. 50.

Discounted Morning Delivery

to eligible addresses at Rs. 50.

Discounted Express Delivery for Prime Now

to eligible addresses at Rs. 49. For more information, go to Prime Now Shipping Speeds and Delivery Charges.

No minimum order value required for FREE Standard Delivery.

Prime Early Access

- Get early access to Lightning Deals on Amazon.in.

Prime Exclusive Deals

- Get exclusive Lightning Deals and Deals of the Day for Prime members on Amazon.in

Prime Video

- Get unlimited video streaming of latest movies, award-winning Amazon originals and TV shows from India and around the world. For more details, go to

About Prime Video

.

Prime Music

- Get unlimited, ad-free access to Playlists, Stations and millions of songs and albums at no additional cost. For more details, go to

Amazon Prime Music

.

Amazon Family offers

- These include 15% off Subscribe & Save diaper subscriptions and 15% off eligible products from your Baby Wish List. For more information, go to

Get 15% off Diaper Subscriptions

. For more details, go to

About Amazon Family

.
Prime Monthly Subscription is also available
AMAZON INDIA INTRODUCES MONTHLY PRIME SUBSCRIPTION AT RS 129
.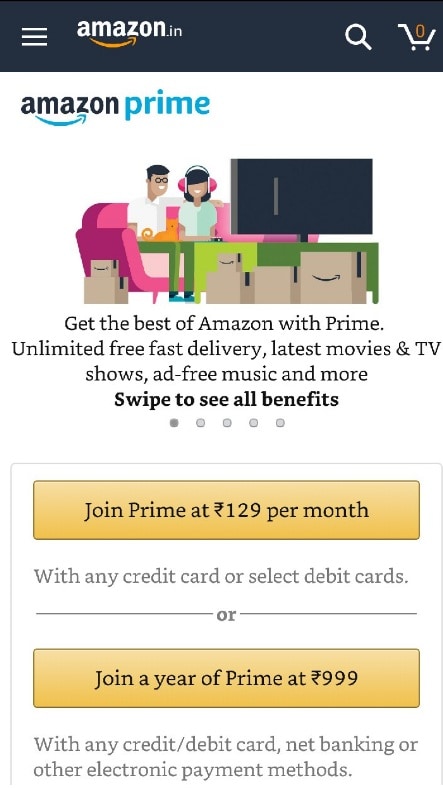 Amazon India on Friday released a new monthly subscription plan for its Prime members, adding to the single option of a yearly subscription. Amazon users can now choose to pay and use Amazon Prime monthly at Rs 129 per month or continue to stay with the yearly subscription package at Rs 999 per year.
The payment methods for this type of subscription are currently limited to debit and credit cards only, as an auto-renew mechanism is activated by default. While many credit cards can be used for the subscription, only select debit cards will be accepted for payments. However, Amazon will notify users three days before the monthly amount is auto-renewed.
Is Prime Membership Worth enough?
Is an Amazon Prime membership worth it?
There are three ways to evaluate an Amazon Prime membership: shipping, reading and streaming entertainment. We'll tackle each individually.
Shipping.

If you spent more than Rs.7,400 in shipping fees last year, well, there's your answer.
Amazon Prime Video

Streaming entertainment.

Amazon Prime, which includes Prime Instant Video, is cheaper than both

the commercial-free

Hulu plan and the standard Netflix plan. Prime also includes Prime Music and is less expensive than ad-free subscriptions to Spotify, Apple Music, and Google Play. If the video and music selection is wide enough that you'd consider forgoing a subscription to other services, you'll have recouped the cost of Amazon Prime.
There are other considerations to take into account, such as the convenience of having your items shipped in days instead of weeks, or not having to go to the store to buy essentials like paper towels.
Keep in mind, too, that you can share your shipping benefits with another household member. If you split the cost with a roommate, for example, you can effectively cut the cost down to under Rs.3600 a year — a pretty amazing deal. It's a great way to save. And if you can get free two-day shipping for less than Rs.300 a month, it's well worth it.
In my opinion, prime is way too good to use you don't have to pay for music which you might be paying for gaana or savaan subscription. In addition, Prime video which has lots of watch hour for you. Basically, a prime member is saving more that you can't even count on your fingers.